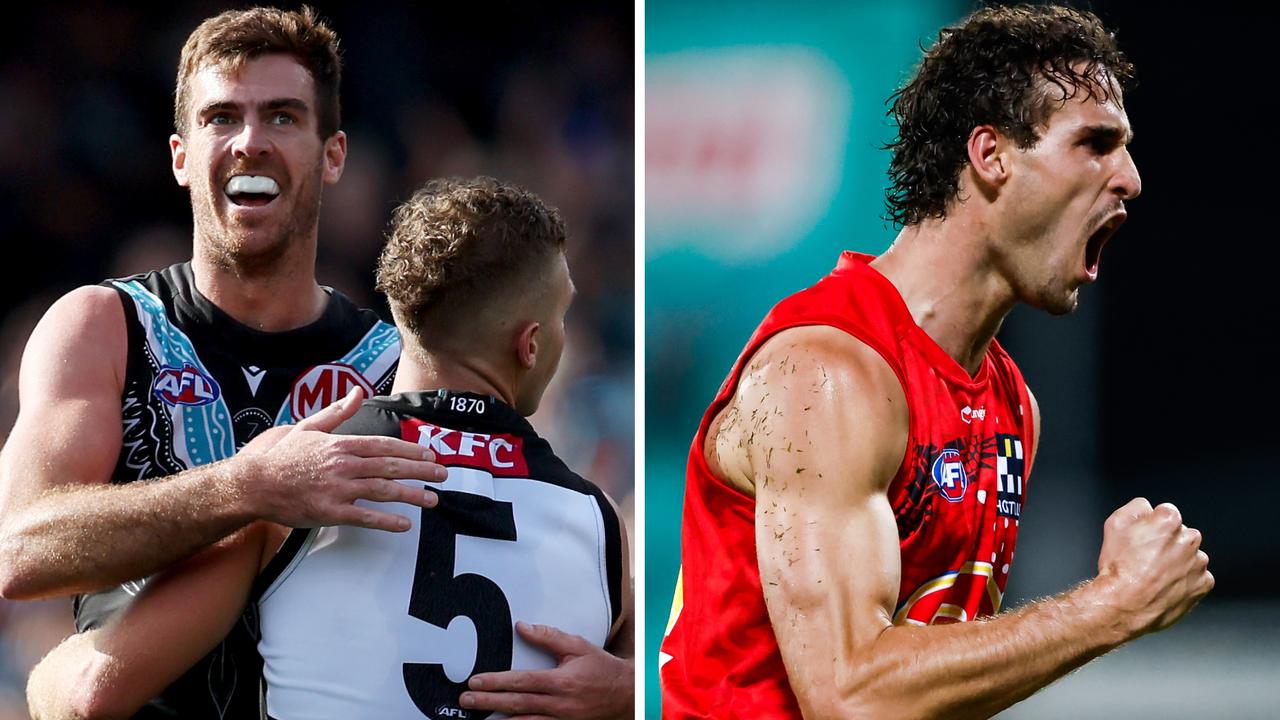 A club-record winning streak has Port Adelaide shaping as Collingwood's top challenger in 2023 – thanks to a "sublime" list build.
Plus the Suns' time may finally be here, the "frightened" Blues' admission and the rule manipulation that worried AFL greats.
The big issues from Round 12 of the 2023 AFL season analysed in Talking Points!
Watch every match of every round of the 2023 Toyota AFL Premiership Season LIVE on Kayo Sports. New to Kayo? Start your free trial now >
Kennedy takes on the Carlton Draft! | 01:29
'SUBLIME' LIST BUILD THAT CAN TAKE NEW POWERHOUSE TO 'PROMISED LAND'
Amid Port Adelaide's gobsmacking first-half demolition of Hawthorn on Saturday, dual premiership Kangaroo David King took a moment to acknowledge Jason Cripps – the architect of a list that could take a proud club "to the promised land".
The Power on Saturday notched a club-record ninth straight win, registering a 55-point victory over Hawthorn at Adelaide Oval. They kicked their highest first-half total in the club's history — 16.9 (105) — to lead by 82 points at the main break and by as much as 96 points, before the Hawks regrouped to kick eight of the last 10 goals of the match.
Port Adelaide coach Ken Hinkley said he was thrilled with the "brutal" nature of his side's stunning first-half blitz against Hawthorn, but conceded it would've been "greedy" of him to expect his players to maintain such a high standard after half-time.
But that standard was as high as the Power have produced in many years, with the club now primed for a crack at not just a top-four spot, but a top-two position and home preliminary final.
The Power's stunning surge has come off the back of terrific contributions from players of varying experience, who've all come to the club via different list management avenues.
"It's a good discussion, the list build at Port Adelaide," King told Fox Footy. "They've drafted really well. They've picked the eyes out of the first round of the draft … Then you look at the trade acquisitions and free agents, it's been sublime.
"Ken Hinkley has got some assets to work with, particularly in the midfield. It's all coming together at the right time for Ken."
As with most strong AFL lists, the draft has been a firm foundation for Port Adelaide.
From Travis Boak (Pick 5, 2006) and Ollie Wines (Pick 7, 2012) to Connor Rozee (Pick 5, 2018) and Zak Butters (Pick 12, 2018), Port's midfield is littered with stars taken with early draft picks. That includes Jason Horne-Francis, who the Power traded in last year — 12 months after North Melbourne took him with Pick 1.
"They're so good to watch, 'The Incredibles'. There's three of them: Rozee, Butters and Horne-Francis," King said.
"I think all Port Adelaide fans should raise a glass every now and then to Jason Cripps, who nailed the draft. Pick 5 was Connor Rozee and the next pick in 2018 was Pick 12, Zak Butters. They're going to lead this club to the promised land."
Port smash Hawks after big first half | 01:16
Elsewhere, Miles Bergman (Pick 14, 2019) is having a breakout season – and in demand from rival clubs – Todd Marshall (Pick 16, 2016) has 16 goals this season after kicking 45 last year, and Riley Bonner (Pick 37, 2015), Darcy Byrne-Jones (Pick 52, 2013), Sam Powell-Pepper (Pick 18, 2016), Dan Houston (rookie, 2015), Kane Farrell (Pick 51, 2017) and Willem Drew (Pick 33, 2016) have become crucial members of the team. That's a great mix of first to fourth-round selections.
Some draftees, too, have genuinely emerged for Port this year, namely Dylan Williams (Pick 23, 2019), Ollie Lord (Pick 49, 2020) and Jed McEntee (mid-season, 2020).
Then there's the stars they've plucked from rival clubs.
Ex-Swan Aliir Aliir is back in All-Australian form, former Giant Jeremy Finlayson is in career-best form, ex-Suns Charlie Dixon and Trent McKenzie are two of their most important players, premiership Eagles Scott Lycett and Junior Rioli have rediscovered top form this season and former Hawk Ryan Burton has become a Mr Fix It for Hinkley.
There's several players either on the sidelines or in and out of the side, too, like skipper Tom Jonas (rookie, 2010), Xavier Duursma (Pick 18, 2018), Josh Sinn (Pick 12, 2021), Jackson Mead (Pick 25, 2019).
"They've still got young, first-round draft picks that haven't even scratched the surface yet.," dual All-Australian Leigh Montagna told Fox Footy."
They'll develop in the years to come and be part of this Port Adelaide midfield that's already stacked with talent."
Port Adelaide Press Conference | 07:55
HAVE THE SUNS FINALLY RISEN?
Imagine if the actual celestial body had as many false starts as the Suns. We'd have been stuck in another ice age.
But after a second straight win against a genuine top-eight contender in Darwin, this may finally be Gold Coast's time. Because they're heading into the second half of the season with a clear path into September.
After their 25-point comeback win over Adelaide, which followed an impressive upset of a Western Bulldogs side on a five-game winning streak, the Suns sit completely level on the season – six wins, six losses, 991 points scored and 991 points against.
We've been here before, of course. Stuart Dew earned a contract extension thanks to a 7-6 start last year (in fact the Suns were 6-6 after two wins in Darwin, just like 2023), before his side lost six of their last nine.
And back in 2014, the Suns were 7-2 and then 9-6 following a rousing win over Collingwood – but Gary Ablett's shoulder injury in that game ended their finals charge, as they lost six of their last seven.
But those late-season collapses have meant the Suns have never even won 11 games in a season, never mind the 12 that used to be needed to make the eight, or the 13 expected to be needed in a 23-game season.
So the equation should be simple: get to 13 wins and you're in September. The Suns, at 6-6, need to win seven of their last 11 games.
And they can.
Suns fight back to down the Crows! | 02:26
For a start, the Suns have six games left against teams below them on the ladder – Carlton (MCG) after next week's bye, along with Hawthorn (home), GWS (Manuka Oval), Sydney (SCG), Carlton again (home) and North Melbourne (Hobart).
Just get the job done against those six, and the Suns have 12 wins for the first time in club history. With a bit of luck they're in the eight just with that.
But they've also got games against Collingwood (home), Port Adelaide (Adelaide Oval), St Kilda (home), Brisbane (home) and Adelaide again (Adelaide Oval).
The Crows are much better at home, but we just saw the Suns beat them, so it's at least winnable. The Saints don't look too threatening right now. And given how much better the Suns are in humid conditions (either at home or in Darwin), could they pinch one over the Magpies or Lions?
Gold Coast's path to finals
Currently: 6 wins
Need: 13 wins (maybe 12 if they're lucky)
Would/could be favourites against (5): Carlton (away), Hawthorn (home), GWS (away), Carlton (home), North Melbourne (away)
Winnable (2): St Kilda (home), Sydney (away)
Would be an upset (4): Collingwood (home), Port Adelaide (away), Brisbane (home), Adelaide (away)
If history is any guide, the Suns will challenge for a few more weeks before a bad, unexpected loss sends their season into a spiral, and they'll be effectively out of the finals race with a few rounds remaining.
But what if that doesn't happen this time? What if their young core is finally strong enough to stand up in the tough moments, win the games they should win and inspire their first ever finals appearance?
All we're saying is, there's a path to September. Which is more than you could say for most of Gold Coast's history.
Gold Coast Suns Press Conference | 09:55
BLUES ARE 'TIGHT' AND 'FRIGHTENED' AMID COACH'S 'BRUTAL' ADMISSION
There was a distinct change of tone in Michael Voss' voice and demeanour when he sat down to face the press following Carlton's latest defeat to Melbourne.
He knows that time is running out for he and the Blues to salvage something out of their season.
After weeks of preaching positivity and selling the message of "going to work" to fix several problems that continue to plague Carlton, Voss admitted and acknowledged what had been abundantly clear for weeks.
"Here are the brutal facts: We're not good enough at the moment. That's the brutal facts. We have to accept parts that we're not," Voss said post-game to the media.
It was a sombre scene in the Carlton rooms post game. Players, immediate families of players, staff members, board members all heartbroken and hurting badly at the plight of their club – a club with big pre-season expectations that just slumped to its fifth loss in a row and seventh defeat in eight matches to leave its season on life support.
Carlton fall to Dees in fifth straight L | 02:06
It's easy to play against the Blues. Every opposition club knows what to do to stop the Blues in their tracks.
The simple becomes difficult. The Blues can't score – and they don't ever look like scoring easy goals or cobbling together easy passages of play that lead to scores.
Over the past month, Carlton has averaged just under seven goals and 52.7 points a game. Through 12 rounds this year, they are averaging a paltry 10.3 goals per game.
And yes, this is a forward line that contains the AFL's past two Coleman Medallists.
Voss said post-game his team was "playing too tight" and "fighting and forcing" too much.
"The endeavour to try and do the right thing, that's sort of been a bit that way for most of the year, to be honest. The boys keep fighting, but right now there's a phase of our game where it's proving pretty hard to keep ticking over," he said.
Carlton Press Conference | 03:31
Three-time premiership player Cameron Mooney said the Blues were "frightened" and "losing trust in each other", with their confidence continuing to take a beating with every passing defeat.
"They're nervous, they don't want to make mistakes and that's why they're playing the way they are," Mooney said on Fox Footy Live.
"You know when you're going through a bad trot. You see that kick on the 45, you don't want to take it but when you're up and about and bang, you hit that one and off you go.
"They came back pretty well. But at the start, they were tight, they were nervous and you can just see it in the way they're playing."
Ex-Hawthorn sharpshooter Ben Dixon added the "panic" and "nerves" Carlton players were experiencing was now messing with their structure.
A huge clash against Essendon looms. Lose that and the unrest among the Carlton faithful will only intensify more.
Cats end losing run in win over Bulldogs | 02:19
MAGPIES IN RARE AIR… AND HISTORY SAYS THE GRAND FINAL LOOMS
It may sound obvious, given they're on top of the ladder, but it's not.
Collingwood should make the Grand Final from here, and it'd be a disappointment if they don't.
That's because they've entered rare air, becoming just the 15th team in the AFL era with an 11-1 (or better) record.
Having lost just one game, against the Lions in Brisbane, Craig McRae's Magpies have joined an elite group which includes six premiers and five runners-up, as well as nine minor premiers.
But they're just the third team in eight seasons to reach such an impressive record.
Being the elite (11-1 or better record, AFL era)
Collingwood 2023 (11-1)
Melbourne 2021 (11-1, minor premiers, premiers)
Geelong 2019 (11-1, minor premiers, lost preliminary final)
Fremantle 2015 (11-1, minor premiers, lost preliminary final)
Hawthorn 2013 (11-1, minor premiers, premiers)
Geelong 2011 (12-0, finished 2nd, premiers)
Collingwood 2011 (11-1, minor premiers, lost grand final)
Geelong 2009 (12-0, finished 2nd, premiers)
St Kilda 2009 (12-0, minor premiers, lost grand final)
Hawthorn 2008 (11-1, finished 2nd, premiers)
Geelong 2008 (11-1, minor premiers, lost grand final)
West Coast 2005 (11-1, finished 2nd, lost grand final)
Essendon 2000 (12-0, minor premiers, premiers)
Richmond 1995 (11-1, finished 3rd, lost preliminary final)
West Coast 1991 (12-0, minor premiers, lost grand final)
Data via AFL Tables
Based on this history, the Magpies are assured of at least a top-three finish and preliminary final appearance.
But almost all of the teams who were 11-1 (or better) at least made the grand final, and a majority finished on top of the ladder.
As it stands, thanks to their excellent percentage the Pies are effectively five games clear inside the top four – St Kilda, in fifth, plays Sydney next Thursday night and can cut that back to four games.
But either way it'd take a massive collapse for the Pies to not earn the double chance.
The most similar recent case would be Melbourne falling from 10-0 to 16-6, but they still finished in the top two, showing how much of advantage a brilliant start to the season provides.
Pies take down Eagles but may lose star | 01:40
FEARS AFL RULE LOOPHOLE NOW 'OPEN TO MANIPULATION'
AFL greats Garry Lyon and Jason Dunstall fear teams may have uncovered a rule loophole after a moment in Collingwood's win over West Coast.
With the Magpies leading by just 27 points, Eagle Elliot Yeo landed on Will Hoskin-Elliott's ankle in a marking contest on the wing.
With the ball going out of play, a trainer got to the Magpie's aid as he got to his feet.
But what happened in the minutes after that left Lyon and Dunstall stunned as Hoskin-Elliott opted to drop back to the Optus Stadium grass – ensuring play had to be stopped.
"You can't have the game stopping and starting depending on whether he's standing up or sitting down surely!" Dunstall lamented.
"It's a rolled ankle.
"But he had stood up, and then sat back down.
"Our care first and foremost is always with the player, but we can't have for minor injuries players having the ability to stop the game."
The controlling umpire could be heard on the microphone stating: "hold the play … he's down, he's down! Hold up."
Commentator Adam Papalia said Hoskin-Elliott "was going to walk off" but then opted to head back down to the turf.
Collingwood Press Conference | 07:10
"It's interesting isn't it," Lyon said.
"That's a change to the way they are officiating this. They now will stop the game if the injured player is in the vicinity of the ball.
"If you are going to officiate the game like this – I'm not saying Hoskin-Elliott's done this on purpose (Dunstall interrupts: "But someone will at some stage"), it opens itself up to manipulation.
"If there's a run on, or all of a sudden you are caught out of position, just drop on your backside and say you've got a sore knee.
"That's why I assume it hasn't been paid in the past.
"We're not saying this is the case here with Will Hoskin-Elliott… he may have a serious injury for all we know."
The game was stopped for a few minutes as Hoskin-Elliott was assisted from the field. In the subsequent play, the Magpies got the clearance and hit up Ash Johnson inside forward 50, which he went back and goaled.
"If it's a super, super tight contest, Collingwood are going to be a man down because Hoskin-Elliott has got a crook ankle and is limping around, they stop the game for a minute. Get set up ahead of the footy, set up around the stoppage, get all your best players back around the stoppage that you need and all of a sudden here's the goal as a result," Lyon lamented.
"It's a very interesting interpretation."
"It's just a fascinating discussion point because at some stage, imagine a close final late in the game and something like that happens," Dunstall added.
While yet to have scans, Collingwood coach Craig McRae didn't think Hoskin-Elliott's injury was serious.
"Will's got a low grade ankle and will most likely be right," McRae said in his press conference post-match.