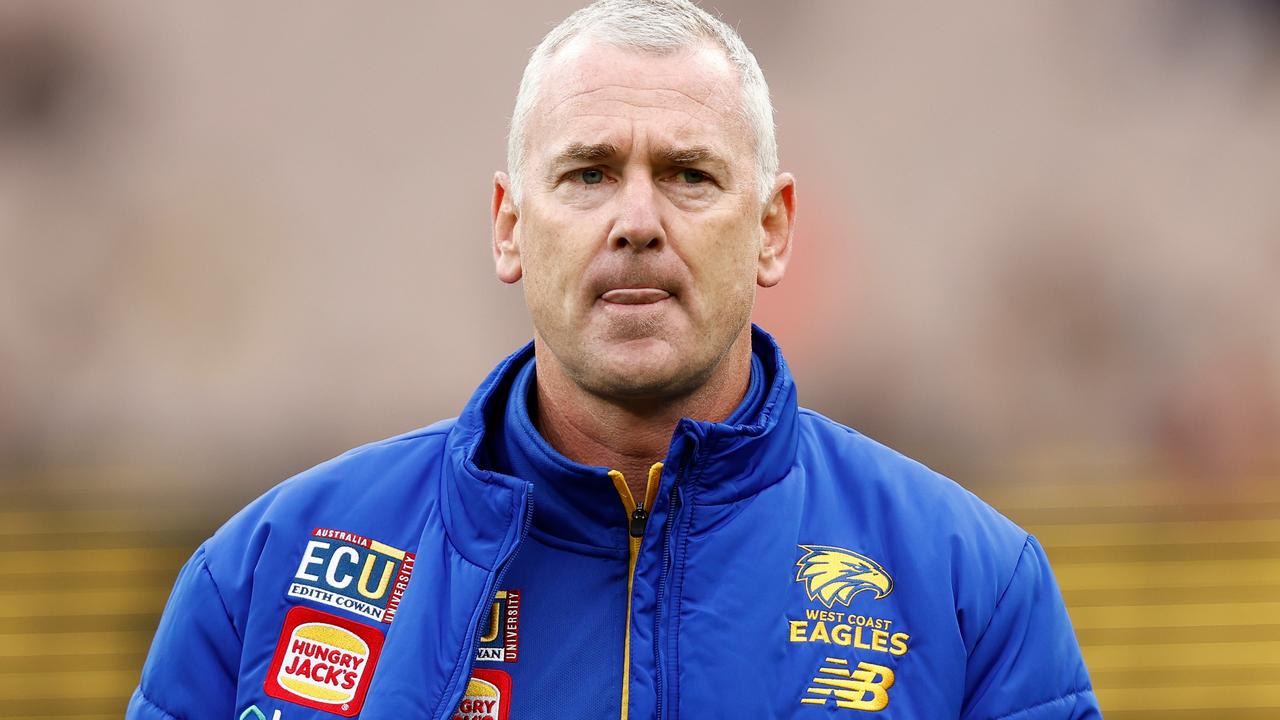 West Coast Eagles coach Adam Simpson has denied he has been asked to take a three-month break at the end of the 2023 season.
Simpson has been the subject of multiple reports about both his future and the support of his board, which is headed by CEO Trevor Nisbett.
Questions about the future of Simpson – contracted until the end of 2025 – have been raised externally with renewed vigour after 116-point loss to Hawthorn.
Watch every match of every round of the 2023 Toyota AFL Premiership Season LIVE on Kayo Sports. New to Kayo? Start your free trial now >
Brereton weighs in on Reeves resignation | 01:26
In a wide-ranging interview on 6PR, Simpson said nothing had changed on his end.
"I get a lot of text messages and I'll get a few apologies here and there as well that things have been taken out of context, which sort of happens when you're going through all this," he told Adam Papalia on Thursday night.
"Even the one I think last night (Wednesday) about me having three months off, it went from three months off now to three months off at the end of the year. No, it's not really what we're doing. That sort of comes with the job a little bit and comes with the situation we're in at the moment."
Simpson said he had flagged with the club he would be interested in a personal development trip after the season with his kids "for a week or two", but a lengthy break was not on his mind.
"The most important thing is the rest of this year and making sure we get something out of the season with younger players and a bit of an identity or how we want to play," he said.
"It's the last thing on my mind at the moment. It came up last night, I get the question, but it's not really in my thoughts at the moment."
Simpson began coaching the club in 2014 and is the fourth-longest tenured coach in the league following Damien Hardwick's departure from Richmond this week.
The Eagles have fallen from their premiership heights of 2018 and currently sit at the bottom of the AFL ladder.
Eagles deny 3-month break for Simmo | 00:32
Simpson said questions about his desire to coach the team moving forward were irrelevant.
"It's not really something I've thought about in terms of have I got the energy, because I've just always got the energy. If I'm not doing this, I can't imagine what else I'd be doing," he said.
"I'm not at the end of my limits, I'm not in that space. But there's criticism out there and there's obviously question marks about what's going on.
"I think we've just got to accept that and don't connect that to my health, because it's not really part of it.
"Obviously, a break at the end of the year is going to be good, but that's good every year, it was good after we won the premiership. We all work really hard during the season, we have a good break after it. We deal with stress as part of our job and we will get on with it."
As to reports of disenchantment at board level, Simpson said it was out of his control.
"You're the coach until you're not the coach. I'm aware of that, that doesn't worry me. I have got a long contract at the moment, but that doesn't … whatever they need to do they need to do," he said.
"Whatever is best for the club we should do. At the moment with what we're going through, I think I'm the best for it. Until that changes then I'll keep going."