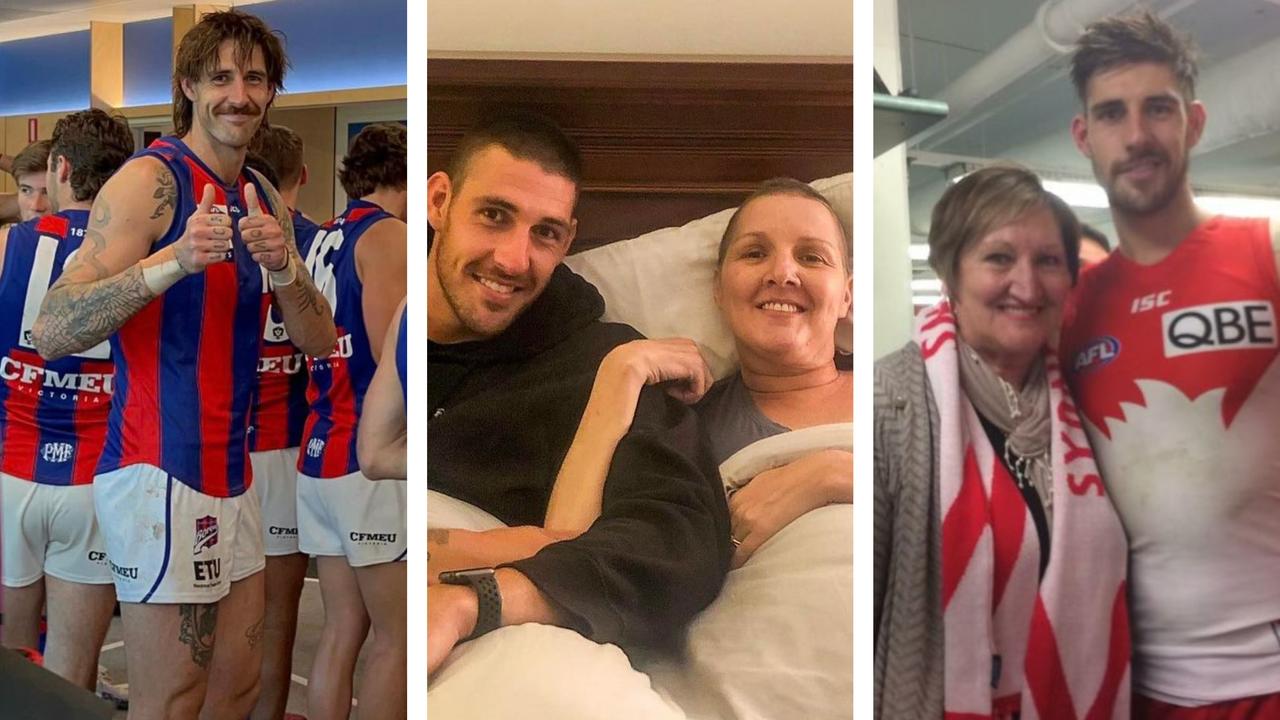 As eager as he is to resurrect his AFL career, perspective is everything for Sam Naismith.
After dominant form for Port Melbourne in the VFL, the 30-year-old ruckman is among many players hoping to get picked up in next week's mid-season draft for his second AFL chance after injuries plagued Naismith's time with the Sydney Swans.
Naismith's horror run with injuries at the Swans from 2012 to 2022 saw him undergo three knee constructions and a host of other surgeries, limiting him to just 30 games including making only two appearances from 2017 before getting letting go at the end of last season.
Watch every match of every round of the 2023 Toyota AFL Premiership Season LIVE on Kayo Sports. New to Kayo? Start your free trial now >
NEW FOX FOOTY PODCAST – Dimma, Clarko gone in bombshell week
Listen below or subscribe in Apple Podcasts or Spotify
Tragically though, Naismith's brutal string of setbacks have only been minor compared to harrowing family circumstances he's endured in life.
After getting delisted by Sydney last year, Naismith has been travelling back and fourth to country New South Wales to spend time with his sick mum, Debbie, who's battled breast cancer and blood cancer, with her condition unlikely to be cured.
It comes just three years after Naismith lost his sister, Kristi, to pancreatic cancer in 2020 – exactly three years ago from today. During the Covid-19 break of that season, Naismith made regular eight-hour road trips to Mudgee to visit her.
The Swans paid tribute to Kristi as well as John Kennedy Snr, who passed away in the same week, by wearing black armbands in their Round 4 clash with the Western Bulldogs in Naismith's final game for Sydney.
These recent hardships have been a cruel theme for Naismith, who's father, Michael, passed away from bowel cancer when Naismith was just 19.
This however is not a story of sympathy or sadness but rather one of resilience, inspiration, redemption and, as above, perspective.
"When you're inside the four walls of a footy club, your focuses are internalised and you think of yourself a bit. When you take a step back and realise what's going on with other people, your perspective changes, and I've had some first-hand perspective," Naismith told foxfooty.com.au.
"The family stuff really puts the injuries, footy and everything else into perspective.
"I could sook about my knee, but that definitely pales in comparison to what my sister was going through and what my mum is going through.
"Being a footballer and getting paid to play footy, you complain about a little injury when you're usually the first in line to get surgery the next day because the medical staff are really good and you're a priority.
"I don't think there's too much to complain about in the scheme of things. I think I was able to use that in my mindset and be grateful about what I was able to do rather than what I wasn't."
It was seven years ago that Naismith lined up for the Swans in the 2016 Grand Final against the Western Bulldogs, a game he admits "doesn't feel like yesterday" but remains a "fond memory" despite his side losing the famous decider.
It was part of a two-year period in 2016 and 2017 when the much-loved Swan led a star-studded midfield in 27 games and looked primed to be the club's long-term ruckman before injuries derailed those plans.
The myriad of setbacks along with the emotional toll of Kristi's illness unsurprisingly weighed heavily on Naismith as he "fell out of love with the game."
Since being let go by the Swans at the end of last year, Naismith has been able to see his mum more regularly before he finally decided to move to Melbourne, where he has other family, and play for Port Melbourne.
"I've been going back as much as I can to spend time with mum," he said.
"I tried to find the best spot for me to play footy again and try to play at the highest level.
"That involved coming to Melbourne … I think choosing family was the most important thing and I've got a bit of family in Melbourne, so I decided to play down there."
You only had to see Swans champion Josh Kennedy presenting Naismith with his Port Melbourne jumper to get an understanding of the esteem with which the ruckman was held in at Sydney.
And playing in his first game of footy in three years in Round 1 of the VFL season, Naismith has rekindled his love for the game in the red and blue stripes.
He's also kept his AFL dream alive, averaging 15.1 disposals, 5.5 clearances, 3.6 tackles and 40.9 hit-outs as one of the VFL's most dominant rucks to put his name on the radar of clubs.
Foxfooty.com.au reported earlier this month Geelong has been heavily linked to Naismith, while Collingwood and Sydney have also been monitoring his progress.
"For me, it's been about getting back to playing again," he said.
"On the back of a few unfortunate injuries and things, my focus was getting back to enjoying the sport, because I spent a few years there where I didn't enjoy it.
"Port Melbourne was the best fit for me and I think it's definitely helped me fall back in love with the game."
Naismith earlier this year spoke about his desire to get to playing in the AFL, and that hasn't changed.
Of course, anyone who's faced the adversity he has would've had every right to hang up the boots.
But he remains "keen to play at the highest level" and "prove right" those close to him who've supported him along his journey.
Above anything, he owes it to himself.
"I'm not trying to prove anyone wrong necessarily, but there's been a lot of people telling me I should've been cut years ago and I should've given up," he said.
"I'm trying to prove the people right that have stuck by me and supported me right. Also just for myself, because I know I can play footy and I want to enjoy it and I think I've got a lot to give.
"I feel like I didn't get an opportunity to really have a crack at it, which is disappointing, but I definitely don't regret anything I've done.
"When you miss so much footy, you realise why you play it and I want to be back out there. Hopefully something comes up."
Ratten & Roos giving Clarko space | 01:52
Asked how much left he has to offer at AFL level, Naismith said: "I'm good to go.
"I think if I can get in there and throw my weight around and be physical, that might appeal to some teams.
"If I get an opportunity to show what I can do for at least six months, I'm confident that could potentially turn into two or three years, even more."
Away from footy, Naismith has found other things important to him in life, one particularly close to home.
He organised a fundraiser initiative for a charity based in country NSW for sick people going through chemotherapy, however it's been put on the back burner in the last six months.
His day-to-day passion meanwhile is pottery, having picked it up in 2021 when he re-injured his knee and his Swans teammates moved to a Melbourne hub.
You can now find him regularly in his small pottery studio in his garage, while he's also in the process of starting up his own business, Luck Love.
"I spent a fair bit of time at a mate's pottery studio in Tamarama in 2021 and fell in love with it and used the wheel throwing and ceramics and whatnot as a sense of mindfulness and mental health aid to escape stuff I was going through," he said.
"The community that surrounds the arts is worlds apart from footballers and those sorts of environments.
"I've really enjoyed meeting new people and being able to sit there and create. I think I'm pretty creative so it's definitely helped me in that sense.
"It's definitely something I'm going to do post my footy career and something I'm loving now."