Sporting legends and leaders from Australia's major codes have shared their excitement on a landmark day in sport, as more than 20 codes joined together in support of the Voice to Parliament.
Ahead of the referendum on an Aboriginal and Torres Strait Islander Voice later this year, 21 sporting organisations penned an open letter to Australian sports fans, which was released on National Sorry Day on Friday.
Sporting greats Jade North (football), Jamie Pittman (boxing), Andrew Gaze (basketball), Cath Cox (Netball), Mal Meninga (rugby league), Jason Gillespie (cricket) and Eddie Betts (AFL) read the open letter together at a combined event in Sydney and Melbourne.
Here's what some of the participants in today's milestone moment in Australian sporting history had to say.
'Dear Australian sports fans': Landmark day as 20-plus sports unite in show of support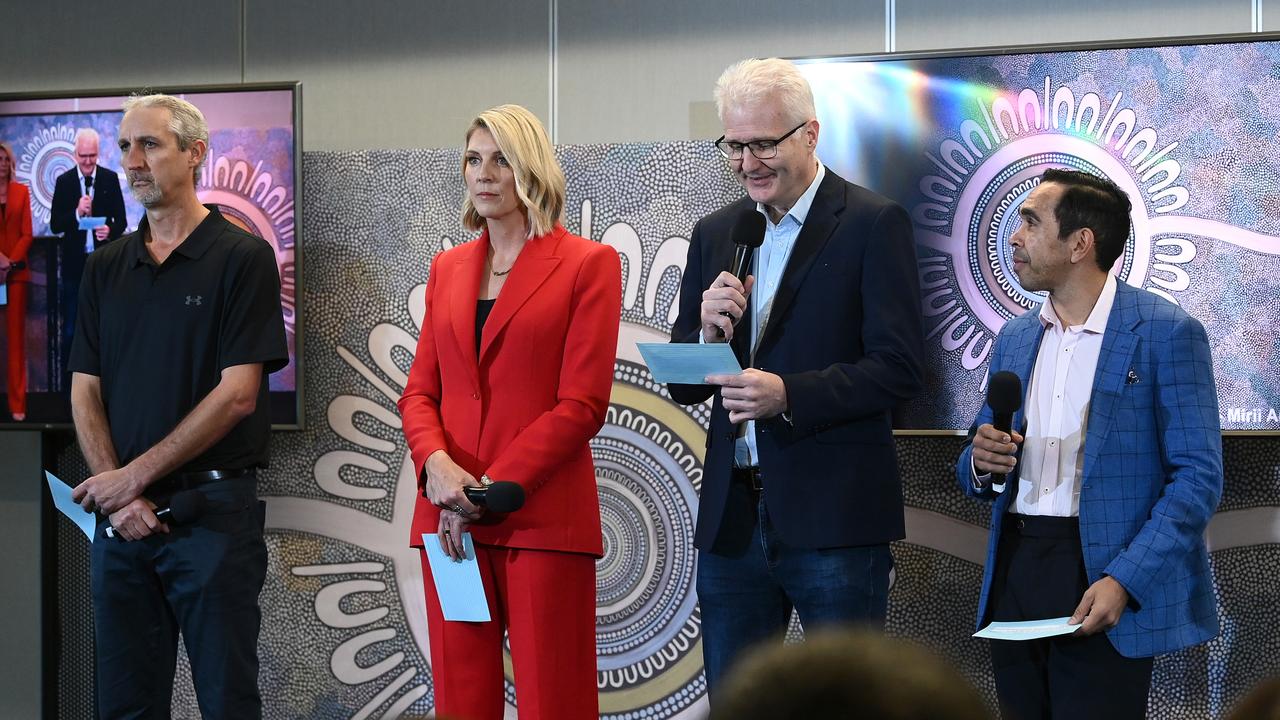 Socceroos great Jade North, an Indigenous man and co-chair of Football Australia's National Indigenous Advisory Group.
On what the Voice means to him
"For me, as you can see, today is a very emotional day and it's been a historical moment within sport and what we're about to (go through), the Voice to Parliament, for me, it's important.
"Growing up and not having much as an Indigenous person, I was disadvantaged growing up in a housing commission, you know, not getting all the nice things that you always wanted to. And life was a struggle.
"Having a Voice is something that First Nations people want to aspire to, to help implement policy around Indigenous procurement, Indigenous ways of life, through to health, education, employment, help closing the gap.
"I think for many reasons the Voice will be such a powerful thing.
"And to be recognised as First Nations, as the first people of this land as well."
On his journey as an Indigenous man in sport
"For me personally, as an Indigenous person playing sport all my life, I'm an Australian," he continued.
"All we want to do is come together and walk forward together, and I think that's the big message for me out of what today's all about and what's around the corner – what we want to do is unite, all Australians (to) unite as one.
"I think we're on the brink of something big and special."
On the Voice and the message to Australian sports fans
"Being part of something like this is a once in a lifetime opportunity," he added, saying "absolutely (it's a) proud moment."
"As you can see today, there'll be a clear message that goes out to the Australia public. That all we want to do is unite and be heard.
"When I first heard about it (the Voice) I was nearly tearing up, you know, because there's gonna be some change. We're working towards change and that's all we want."
On the role of sport in unifying Australia
"Sport is a way of life, and it's about teaching our youngsters, it puts people on the right path, makes you new friends, and sport brings you together.
"If you look at today, who would have thought sport (could do this)? I'm retired now, that's brought me back into it, uniting with 20 different sports.
"So for me it's a way of life."
North added that this moment is a chance for Australia, "so we can walk together, move forward together. And as I said, sport is the connector and sport is so important."
Jamie Pittman, an Indigenous man who represented Australia at the Olympics in boxing, and now coaches the Australian boxing team
On what the Voice means to him
"It means that our people get to show how important our land is to everybody. Sport is leading the way when it comes to this kind of stuff, to bringing everyone together
"Boxing Australia, we have our outfits now that are designed red and blue, with stories from Paul Fleming, an artist (2008 Olympics), and Brad Hore, another artist (2000 and 2004 Olympics).
"So yeah, we're trying our best as a sport to reconcile Australia."
On his personal journey as an Indigenous Olympian and coach
"I'm absolutely amazed. Sometimes I wake up and think it's all a dream, you know, to be one of the Indigenous Olympians myself and to help support Indigenous athletes to become Indigenous Olympians.
"Boxing is the most represented of our Indigenous people at the (Olympic) Games, so it's an honour and I still wake up blessed every day."
On the growth of Indigenous boxing in Australia
"Yeah, absolutely (it's growing). And No Limit is helping with that promotion, we're getting more registrations now, we've got talent coming through, we've got a really strong pathways programs in place with boxing in Australia.
"And we've seen lots of Indigenous kids come through and shine. And we've got a kid, Callum Peters from South Australia. (He's) only young, (a) Commonwealth silver medallist, finished in the top 10 in the world, was unlucky not to get a medal at the worlds. So yeah, boxing is booming at the moment.
"And it just helps with these kind of events and this reconciliation, how people feel (they) belong in this sport."
On his dream for Indigenous boxing
"Biggest goal is to see an Indigenous fighter be the first ever Olympic gold medallist for boxing. We've never had an Olympic gold medal, so that would be an amazing achievement for us. And I would be very proud, myself as an Indigenous man and as a coach, to watch an Indigenous athlete stand on the top of the podium."
AFL CEO Gillon McLachlan
Was it a unanimous decision from the AFL Commission to support the Voice?
"Every decision the Commission makes is unanimous. I've been on the Commission for a decade and I don't think anything has gone to a vote. There's discussion and decisions are made and it was a unanimous decision."
What does this signal?
"I hope that it's a signal for sport that we see our role as a unifying force. The fact we speak with one Voice I think is important.
"I think it's also important to note – and it was said today – it's not to lecture anyone. People need to make their own decisions, but it's just a view about where the leadership of the sports stand."
People who say sport and politics don't mix?
"I'd say we are community organisations. We are required and expected a lot of the time for community leadership. We get criticised when we don't. I don't think you can pick and choose. People want us to be community leaders, our supporters do and we believe we are. When you're asked to do that a lot of times, you need to do that consistently.
"We don't lead on every issue and we don't lecture people. I think people, if you want to be a member and you want to come and you want to follow a game, people need to say we've got a leadership stance, that's all we're doing on this."
Will the AFL make its stance known at games?
"No. We put out a statement last week … I think we're going to then be good to our point where we say we're not there to lecture people.
"We say this is what the leadership of the AFL believes, this is what the AFL believes and then it's for people to make their own views."
Alyssa Healy, Australian cricket captain
On what today's announcement means to her
"Well, firstly, I feel really lucky to have been here and experience today. I think it's great, I've never seen a larger group of sporting organisations in the one place at one time.
"So for me to be here alongside some of the biggest big wigs in Australia was pretty special.
"But for me it's just a great opportunity to show people that we're here and we're supporting, and to help educate the country
"I mean at the end of the day they've got the right to make their own decision come referendum time. But for us as sporting people in our country, it's a great opportunity for us to educate people (about) what is upcoming and what might take place."
On learning from Indigenous teammates and mentors
"It's been a really great learning experience for us. I mean, for starters, we (as Australians) don't get to learn a lot about the Indigenous culture at any point throughout our lives until you're mates with one, or you meet someone that changes your life.
"So we're really lucky that we've got someone as proud as Ash Gardner in our side at the moment. And it's not just left on her to educate us, it's actually our responsibility to go out and educate ourselves and then ask questions if need be. But it's not on her to advocate just for herself and her people as well, it actually falls on us a bit as well.
"I love seeing the pride, the passion that she displays. And like I said, it's a great opportunity for us to show our support and give them a voice."
On the role of Indigenous people in Australian (sporting) culture
"I think (First Nations people) are such a big part of our culture and our sporting culture in particular and have played such vital roles in all sport across the country.
"So it's great to see all the sports here, you know, throwing their weight behind it and showing their support.
"I think it's a momentous day and I'm really excited to be part of it."
James Johnson, Football Australia CEO
"I think it's a really great day for Australian sports and it's a great day for our country where you've got all major sports coming together, I think, singing from the same song sheets.
"From Football Australia's perspective, it's about values. And when we adopted a value around inclusion and diversity, we saw this as an opportunity to bring that value to life. And that's the reason why back in September, we got on board early with this.
"It's not political – it's actually about values, and we want to bring our values to life."
On what more can be done for reconciliation and inclusion in football
"Look, there is. And to see Jade North, who's a former Socceroos great, lead the proceedings today on behalf of all sports, we thought was great to see.
"We've got players like (Matildas stars) Kyah Simon, Lydia Williams that are now playing.
"So we've got a great history of Indigenous players, we have great current Indigenous players and there is more that needs to be done.
"What we've done to respond to that is we've set up a NIAG, a National Indigenous Advisory Group, which Jade North co-chairs.
"And that's a forum that can advise Football Australia around how we can do more for the Indigenous community.
On the Women's World Cup 2023 in Australia as a moment for change
"Look, sports are an opportunity to highlight some of these issues and we're working very closely with FIFA around what we can do as a host nation to make sure that Indigenous Australia is recognised through the women's world cup.
"So it's a bit early to say what that is yet, but we have thrown ideas around to FIFA about the hanging of the Indigenous flag in stadiums when Australian matches are played.
"So through issues like this, we think that we're doing what we talk about in terms of our values, and that's bringing our values to life."
Is FIFA open to the flag idea?
"Yeah, look, FIFA are. You know, ultimately as a competition organiser it's a FIFA decision but we do have a lot of weight as a host when it comes to these issues.
"So it's something that I know FIFA aren't opposed to, and we're in advanced discussions with FIFA on this issue and it's one that we would like to see come to life."