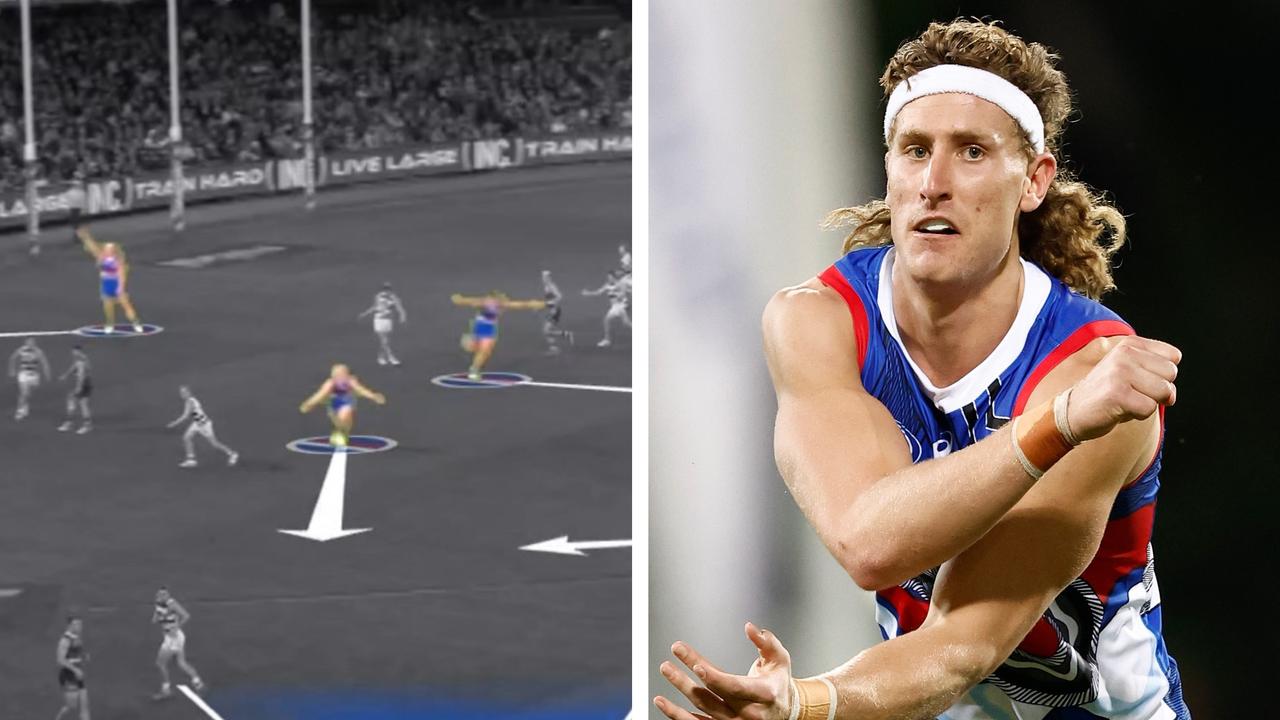 The Western Bulldogs need to find ways to get star Aaron Naughton more involved in the game, or it will cost them, Fox Footy's David King has warned.
Naughton had just seven touches in the loss to Geelong in his worst outing for 2023 and finished with one goal for the seventh time in 12 matches.
King questioned if the Dogs were getting the "absolute maximum value" out of Naughton in the role he's currently playing.
Watch every match of every round of the 2023 Toyota AFL Premiership Season LIVE on Kayo Sports. New to Kayo? Start your free trial now >
"Is it Aaron's fault? The team's ball use? Is it coaching putting him in the game more regularly?" King questioned on First Crack.
"I don't know whether he's always in the right spots to receive not just an easy possession but an uncontested mark or hit the wings when the players need him."
Western Bulldogs Press Conference | 06:35
King highlighted clips from the loss to Geelong where Naughton wasn't available down the line when his team needed an outlet, and other times where he was open – yet players opted to bomb it to a pack instead.
"I know he's taken 17 contested marks inside 50 but he's only taken 11 uncontested," King said.
"This sort of use here is killing Aaron Naughton – the fact they cannot drop the ball into his running pattern, into his leading lane is almost disgraceful.
"This is the reason why again they won't finish top four."
King showed repeat entries inside forward 50 where the ball was simply put on Naughton's head when surrounded by defenders.
"Who is going to mark that in our competition?" he questioned.
"They expect Naughton to mark that – it's just not going to happen.
"This is Bailey Dale, he's probably the best kick in their team, so how can he not hit one of those guys in the leading channels as they are? They go to Naughton and sit it on top of everyone's head!
Geelong Cats Press Conference | 11:21
"He's a fantastic contested marker … but it's just too hard.
"I don't know what the issue is – a lot of it's ball use.
"But you can't have a marquee player like this have one kick through the second and third quarters of a game like this that's in the balance.
"They (Geelong) don't let that happen to Jeremy Cameron – they spin the magnets. Throw him in the middle, throw him down back – get the ball in his hands.
"I'm not having a go at Luke Beveridge – I'm just questioning what is the issue?
"I just think when he's not touching the ball, you've got to do something about it in games."
It's not the first time King has called on Beveridge to shuffle the deck and play Naughton other than as a forward – but his calls to shift him into defence were quickly shut down by the Bulldogs' coach this week.
Ugle-Hagan runs on to make immediate hit | 00:34
"So he's kicked 100 goals over the last three years, and he's probably been our most instrumental key forward, but he (King) suggested he goes back?," Beveridge asked.
"The thing is that we've got a lot of depth with our key backs and we've been pretty happy.
"Aaron's been amazing player for us, and he usually gets the opposition's best defender so we've got to do our best to help him play his best footy.
"He's not going behind the ball any time soon."
The Bulldogs will next face a red-hot Port Adelaide at Marvel Stadium in Round 13.